Rhodes – an island with an environment for adventure & adventurers!
Rhodes is the fourth largest island in Greece. It is 78 kilometers long and 34 kilometers wide, and with over 3,000 hours of sunshine a year, it is one of the sunniest regions in Europe. From May to mid-October, hardly any rain is expected – so ideal conditions for an unforgettable vacation!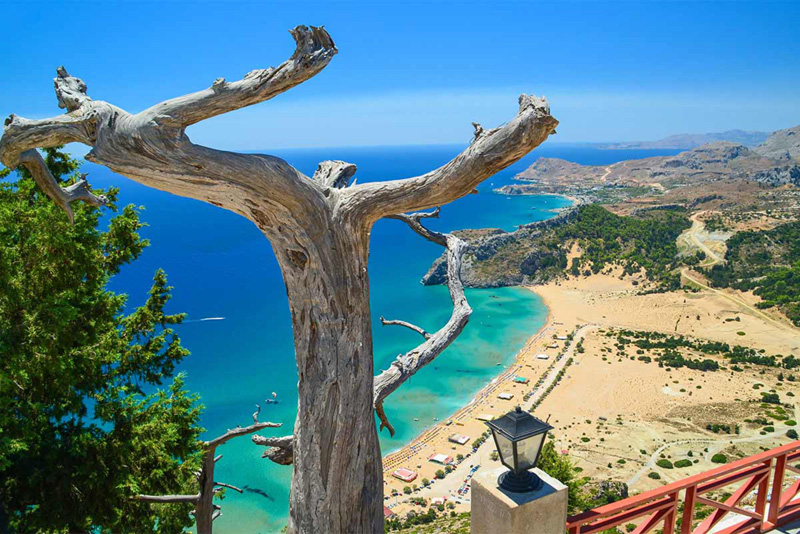 What is particularly worth seeing?
Among other things, definitely the Old Town with the Grand Master's Palace and the mighty city walls, which was named a World Heritage Site by UNESCO. Also worth a visit are the thermal baths of Kallithea, which opened in the summer of 2007 and are located on the east coast of the island. Finally, a bit further south lies the stronghold of tourism, the region around Faliraki. There are numerous bars, discos and restaurants.
The Acropolis of Lindos is also an absolute highlight. Only the Acropolis of Athens is visited more often! Lindos is a cute little town with numerous serpentine roads. The Acropolis can be reached on foot or by so-called
Donkey cabs can be explored.
Authentic & close to nature
Theologos is an old Greek village with a special flair. There you can still find the authentic Greece. The Butterfly Valley, a 5 kilometer long gorge located very close to Theologos, is definitely worth a visit. Visitors will find pure nature here with a lake and several waterfalls.