Welcome to the best wing, kite and windsurf spot in Rhodes
The kitesurfing and windsurfing spot Theologos is located about 5 km south of Rhodes airport on the west coast of the island. Our windsurfing and kitesurfing stations are open from April to November and are located close to each other, but without disturbing each other on the water. Surf and Kite Theologos offers families, solo travelers or couples with an incomparable atmosphere the perfect spot to find like-minded people and make your vacation unforgettable.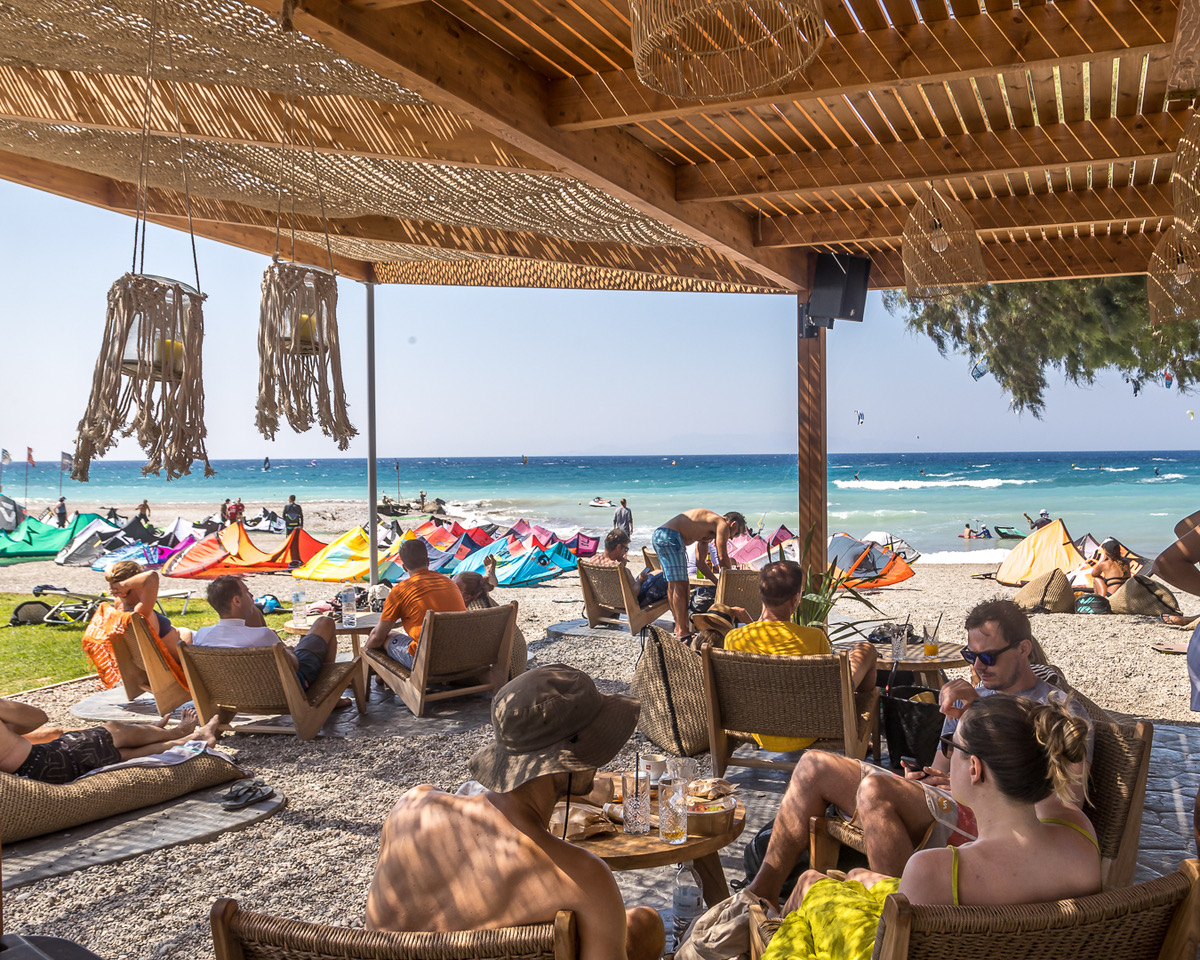 Latest material & chilling in the shade
At the kitesurf station you can expect the latest CORE and Carved material. At our spot you will find cool music, WIFI, comfortable shady spots to chill and enough space for your personal stuff. Of course, we also host regular relaxed BBQ nights followed by parties, live music & pasta nights in our Beach Village, dinners in various tavernas and great beach parties.
Besides kitesurfing and windsurfing we offer you the possibility to participate in our bike tours, crossfit courses, yoga courses or wing units.
You can feel safe at both the kitesurfing spot and the windsurfing spot. If you book your vacation on Rhodes with us or one of our partners, the rescue by jet ski is included in the rental price.
Tip: Book your trip with us and benefit from our combined offers with the best price!
Short distances & great pleasure
Walking on the beach is only a few meters between the two stations. The wind blows constantly from midday with 20 knots side-onshore from the southwest – an ideal combination area for beginners and intermediates with enough space to practice, to learn new tricks or just to enjoy the Meltemi (fair weather wind).
Directly on the beach of the TUI Best Family Hotel Alex Beach is our windsurfing station. Here you can find the latest material from POINT-7 and PATRIK Boards. Our chill-out area as well as the hotel's beach bar invite you to end a windy surf day in a cozy atmosphere.